Horse Magic Mastermind
Leadership Coaching for Horse Lovers
"Achieve goals without rushing!" – ex-racehorse Lemon Squeezy
The Horse Magic Mastermind blends proven business leadership approaches with horse wisdom to help you expand your awareness, deepen trust, inspire new insights, and achieve your professional and equine goals! This program is designed for open-minded horse lovers dedicated to being their best at work and with their equine partner.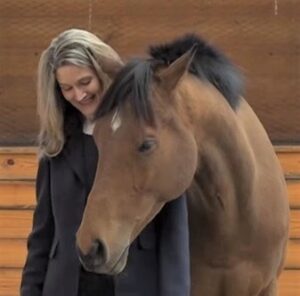 Guided by the wisdom of horses and proven leadership success strategies both in and out of the saddle, our virtual group sessions will provide tactics to help you clarify and advance your specific goals, build confidence and self-trust, and neutralize resistance. I will personally guide you through this process and share top tips to expedite your results (without rushing!). You'll leave each session feeling refreshed and with specific steps you can take now, and support and accountability to be sure it sticks! I've used these approaches to build a business I love, create the equestrian facility of my dreams, write two Amazon best-selling books, and develop loving, joyful relationships with my horses.
This Program is for YOU if: you delight in learning from horses and applying their wisdom to all areas of your life, you see horses as sentient beings and seek a deeper connection with your horse, you're open-minded and eager to expand and grow, you're committed to giving your best, you love being part of a carefully curated group of incredibly supportive people. You do not need to own a horse to participate.
I invite you to contact me if you're ready to:
Deepen your impact, trust and joy.
Break through fear, doubt, and resistance that hold you back.
Take high-impact action to advance your goals.
Empower your equine relationship.
Horse Magic Mastermind Program Structure
September 28-November 30, 2022. Four live Zoom 2-hour sessions, Private Facebook group for weekly check-ins, video submittal, accountability, and discussions. Kickoff September 28, 4:30 pm-6:30 pm EST, 10/19, 11/16, 11/30 (all sessions are 4:30-6:30 pm EST and are recorded)
Clients Say:
"Shari is genuine and caring, and she has such an infectious positive energy that just spending time with her makes you believe anything is truly possible. She offers concrete practical solutions for overcoming self-limiting beliefs and habits..I left the Horse Magic Mastermind experience with deeper relationships with my horses, a more positive mindset towards my personal and professional goals, and new friendships with a group of inspiring and powerful women. I look forward to more opportunities to be coached by Shari in the near future!" – C. Tapley, Founder, Nalani Horse Rescue
"The Inspired Leadership Mastermind was an amazing journey of learning and self discovery. Shari brought together a diverse yet cohesive group of leaders from various backgrounds and industries. The experiences of the group provided a wealth of knowledge, a deep understanding and a variety of options to continue forward momentum. My personal and professional growth was exponential… Thanks to Shari and the Mastermind I am a more confident leader and possess the tools necessary to continue my growth." – J. Snead, Controller, Azzur Group, LLC
"The trust and confidence you build is amazing. People and horses." – D. Jennings
"Your leadership, presentation, and thoughtfulness are so evident, thorough, inspiring, validating, enriching… You are such a knowledgeable person – concerning HUMANS and EQUINES" – B. Winings, Reading, PA
"I have always known that there is power in a group but it was through participating in the 2020 Mastermind that I truly felt this power. I was regularly amazed at how easily and efficiently we solved 'problems.' I personally had breakthroughs that on my own would have taken a lot longer to occur, if ever. Thank you Shari for bringing this group together and for always creating a safe place for us to be in 2020!" – S. Schmidt, Richardson Properties
Investment: Special introductory rate $797, normally $997
Contact me to discuss details and to see if this is the right fit for YOU!